Karen and I have flown to Europe many times between the two of us, but CR wasn't the only one having a new experience during our flight a couple days ago–we've always taken overnight flights, but this time we left Chicago in the morning and landed in London around 10:30pm. After customs, etc., that put us in our hotel at midnight local time and 7pm Chicago time. In other words, their normal bed time! We had to wake them up on a little bit of short sleep the next morning in order to get time to see the city, but overall, I'd highly recommend this trick to anyone with little kids. (I'd like to say we were smart enough to plan it ourselves, but that's just the flight that was available using my airline miles.)
The other reason the flight was awesome is there was no one on it! We had an entire row to ourselves, with no one in the rows before or after us. Check it out: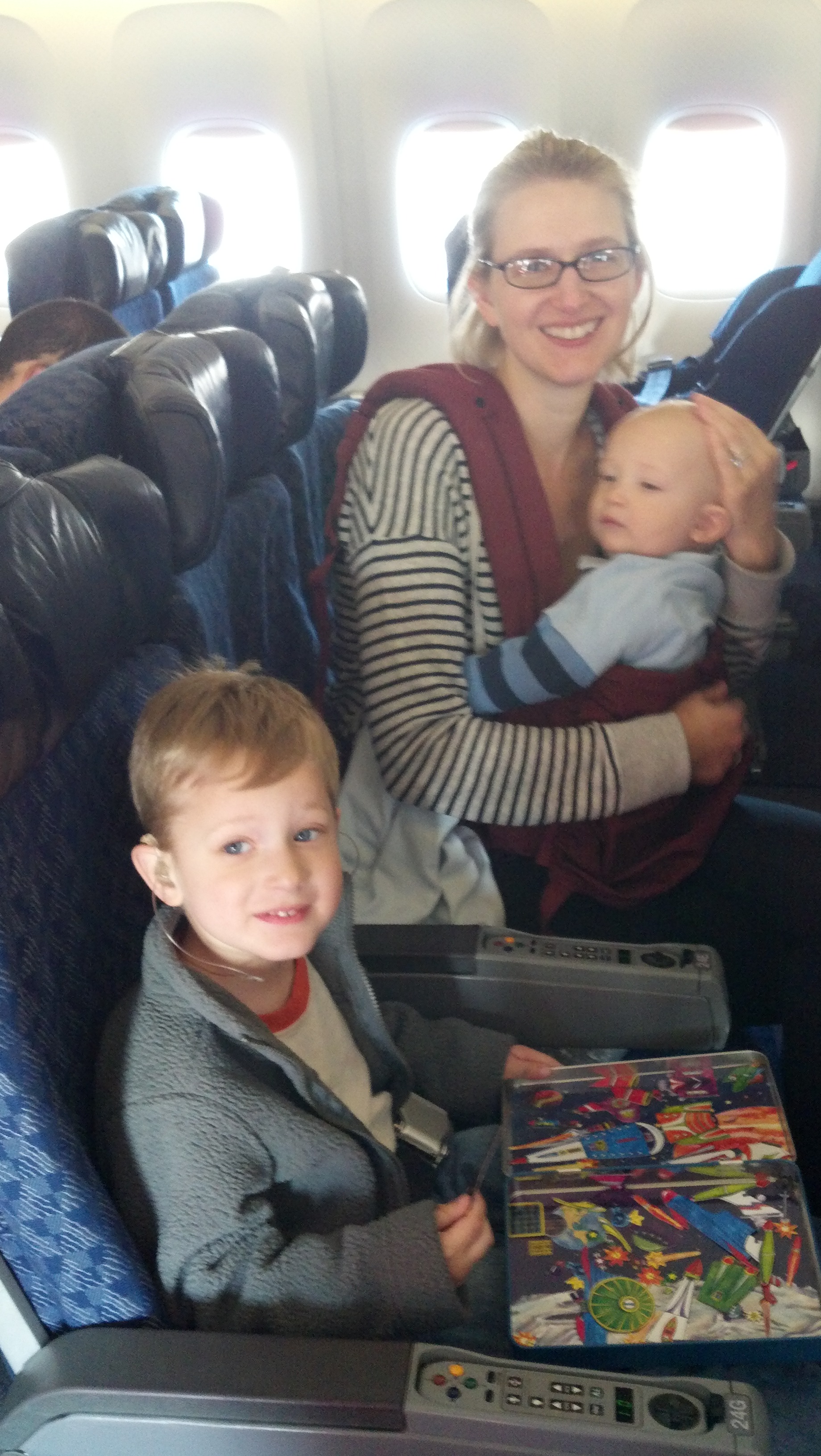 We only had a day in London, but had a great time for what it was. Saw Big Ben, traipsed around Westminster Abbey, chowed down some fish & chips at a pub, then strolled around a bit before catching the train back to Heathrow.
All of this is slightly harder to do with two children under four–Karen keeps CR strapped to a carrier on her chest, and HT is on a backpack behind me half the time (that's when we're about town…I'll need to share a picture to fully explain how we travel when we've got all our luggage with us.) However, the plus side is that EVERYTHING is fun! If you've never seen your child sprinting along the moving sidewalk to customs yelling, "we're in London!" over and over, you really ought to try it. HT also managed to make friends with about 200 people touring Westminster Abbey yesterday, cackling about the "BIG church" and really excited about the statues marking all the graves. (I think this is the first time we've ever had to explain graves to him, although I didn't mention they dug up Oliver Cromwell to posthumously cut off his head and throw away the bones–he just thought it was neat to see the name of his friend Ollie.)
At Heathrow, we caught a flight to Lisbon, Portugal, the subject of my next post.