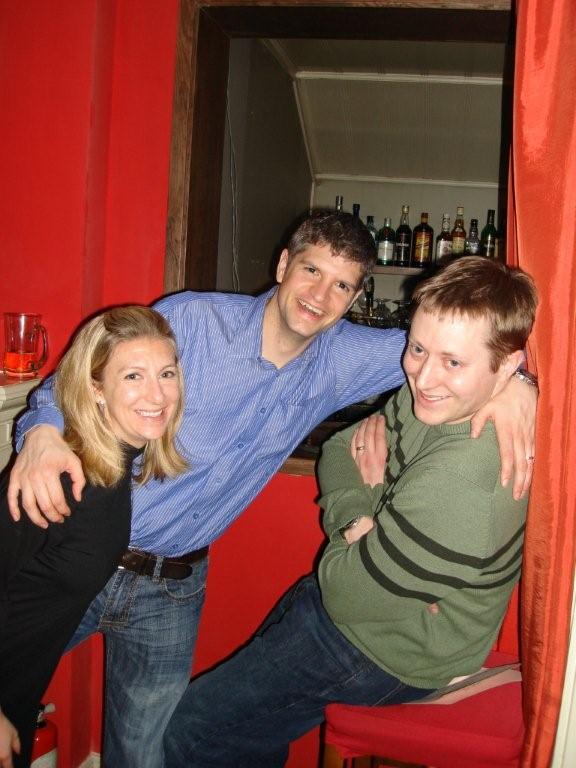 Are actually American. In fact, I met Mike my very first day of college at Purdue–he sold me a loft the day I moved into our dorm, and I spent a lot of time hanging out in his room down the hall over the course of the year. We shared an apartment with a couple of other guys the following year and have been friends ever since. He was even in our wedding in 2004, returning the favor for me being in his in 1999.
This wedding, being of course, to his lovely wife Beth. She's from the same town as Purdue and she and Mike (although mostly Mike) are still big fans (the wedding party was dressed in school colors and they had the reception at the Purdue Memorial Union.) The fact that she's a "towny" has worked out really well over the years because her family has always been really generous in putting me up when I come back for football games (with Mike and Beth being the ones that get me to come down.)
Of course these games were a little easier to get to before they started living in China! They moved there for Mike's job (previously in Chicago) while we were living in Australia back in 2006. We've been planning to visit ever since and are just now getting around to it–which is a good thing because they're moving to Japan in a month for their next adventure.
Which kind of explains the fact that we're having Mexican food for our very first meal in China–they're having a going away party with some of their local friends and we're tagging along. One common complaint you'll find amongst Americans living abroad is that it's really hard to find good Mexican food anywhere outside of the US or Mexico (Karen and I almost jumped for joy at seeing a measly Taco Bell Express in Singapore.) While you occasionally can find them, the biggest problem is they're almost always bad. (If you're ever in Melbourne, do yourself a favor and skip Taco Bill's.) They've apparently found a good place in Shanghai, though, so I'm curious to see how it measures up. Between the Mexican and employing whatever trick Mike has figured out to watch the Purdue games in the NCAA tournament, we'll have a nice gradual transition to China. (As long as the baby doesn't spend too many days getting used to the 13 hour time difference!)
By the way, in Shanghai, Beth has been working with a charity that helps coordinate medical care for orphans in China. One of the groups she works with could use some support right now. Here are a few lines from her email describing their work (check it out if you have a couple of minutes):
"[The organization] is called Baobei Foundation. They help orphan babies with neurological and gastro complications get much needed surgeries. It is all funded through private donations and the hard work of volunteers. Right now they are in great need of financial contributions. They are taking on 3 more babies for surgeries this week hoping and praying the funds will arrive. Without these surgeries, the babies will not live. With the surgeries, they can thrive! I hate asking people for money but I would encourage you to take 5 minutes to look at their website. It is at https://baobeifoundation.org/index.html  Literally every penny will help so if you can skip a latte this week and donate that, it will REALLY make a difference. I know times are incredibly tough right now so if you can't contribute financially, please keep this organization and these precious babies in your prayers. HE always provides☺"