My new book, From Hostels to Kids on Camels, is mostly about my travels, but I spend a little time on my childhood in the Introduction. I shared the part about my dad yesterday. Here is the next section about my mother.
My mother, Marilyn, in addition to being scary smart, is a great friend. As you'll read, she was an excellent mother, but I'm also terribly grateful to have lucked into her constant loyal, thoughtful, and funny presence even after I left home.
Just like my dad, she was born in Gary, Indiana, in 1948, the second child of four, coming around not too long after Uncle Jim, right after Grandpa James Mundell got back from "cranking bombs" (as he would say) in the war and married Grandma Rosalie. Marilyn grew up in the neighboring town of Merrillville, Indiana, and Grandpa's family had a lot of history in the area–they named a school in neighboring Hobart after her grandparents. Like many boomers, my parents were the first generation in their families to go to college. Still, Grandpa James' work at the Gary Steel Mills was as something like an engineer–in his later days, he liked to brag about being awarded five patents for the work he did there.
Back to "scary smart": for some reason, Marilyn didn't go to Kindergarten, but she was always great in school. Even before school, she claims to have taught herself to read as a four or five-year-old by simply reading signs as the family car drove by. Mom graduated second in her class from the same high school class as my dad and majored in Math when attending Purdue. Mom told me that she thought about studying medicine, but like many women of her time, she worried that a career as a doctor wouldn't allow her to be a mother, so she became a math teacher instead. For most of my childhood, she paused teaching to be home with me and my two brothers, Andy and Paul. After she went back to work as a long-term substitute when I was in high school, her math teacher peers considered her one of the best teachers, even though she was new and only there temporarily.
Mom also believed very passionately in the potential of students. I heard many stories from her—both from this era and from her teaching in Indiana and New Mexico before I was born—about the students she served, helping them realize the potential they had and that past teachers had sometimes overlooked. She also was sure to talk about the race of students, so that my brothers and I knew that children of all races and ethnicities were just as capable and deserving as we were. Later in life, when I started working in education, those stories formed the foundation of how I thought about racial justice. In particular, my mom taught me to recognize the dignity, humanity, and potential of all people.
For most of my time growing up, however, my brothers and I received the benefit of her teaching experience for ourselves. As I was first getting into books, she made elaborate encouraging posters to track my progress. I read early and have my older brother, Andy, to thank in part for this. Here he is helping me learn right around the same time he was also learning: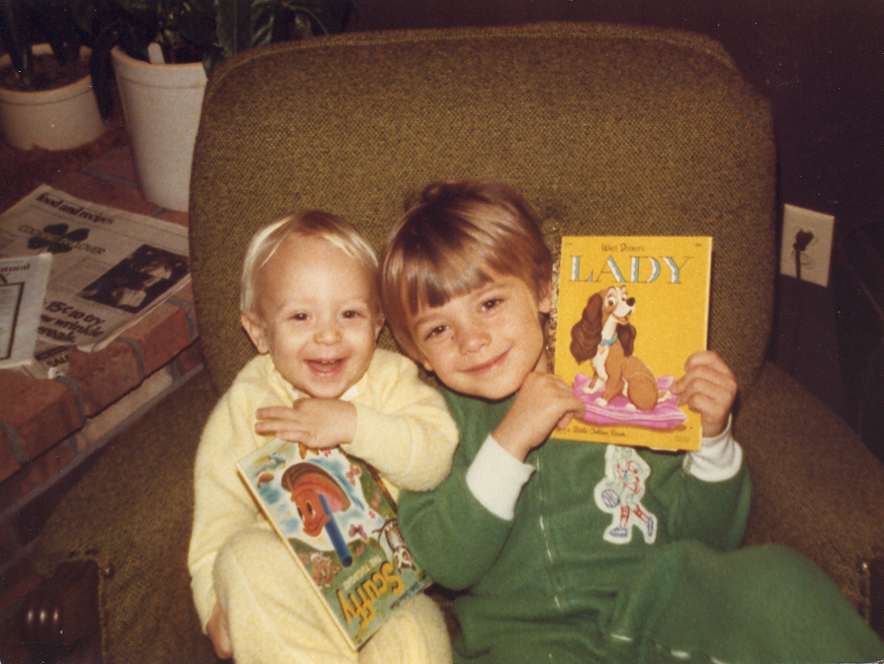 Not just awesome at home, Mom was also very active in our community. While my dad was Cub Scout Master, she served as Secretary and Treasurer, and she was a big part of the reason my parents were able to grow the pack from a handful of kids when Andy joined to a couple of hundreds when my younger brother, Paul, finished years later. She also served as our den leader this year: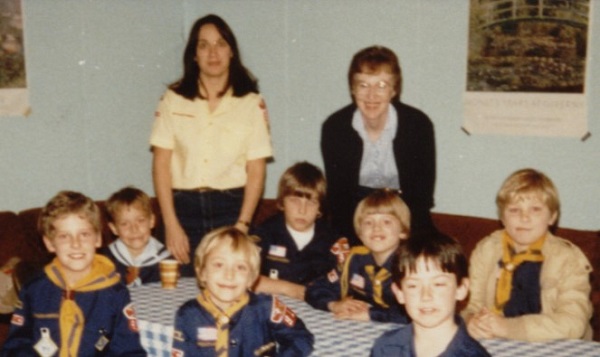 Mom also spent a ton of time at our school, frequently serving as the President of the Parent-Teacher Association. She knew all of the kids and teachers, and sometimes even used those connections to make sure my brothers and I were assigned the best teachers. Here we are with soccer balls: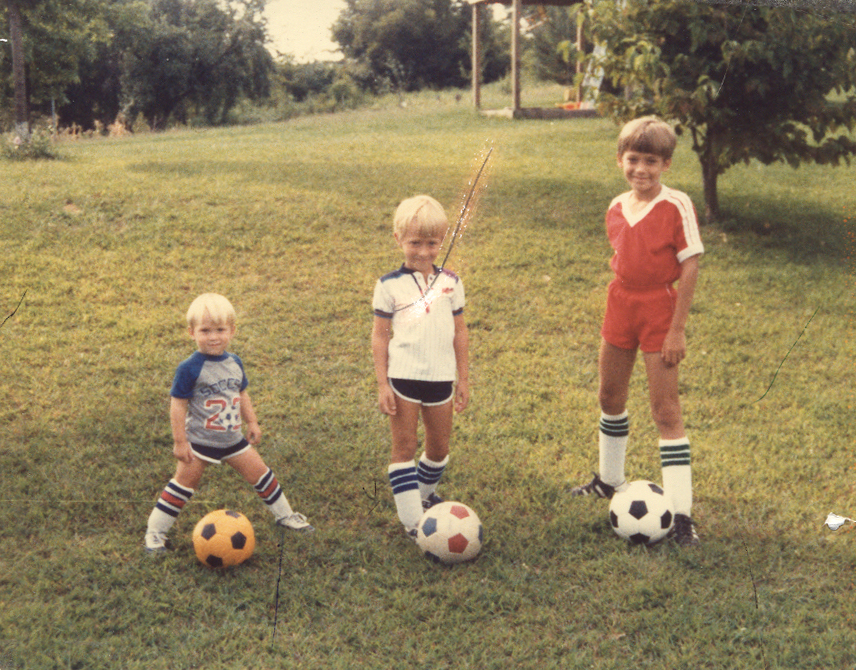 In the background, you can see the fort my dad built for us. He always made things in his basement workshop, and I'm thankful for all of the time I spent with him there as a kid–I've constructed more than a few things in my home as an adult thanks to that early start and experience. The very back of that picture is Dad's enormous garden. He never lost that green bean habit from childhood, but added tomatoes, peppers, onions, carrots, corn, zucchini, and lots of other vegetables. So much zucchini, so many tomatoes! In the summer, I'd never go over to a friend's house without a bag of vegetables to share.
If you could pan to the left of the boys in the picture above, you'd see the pool that my parents built when I was five. St. Louis summers are hot and humid, so I swam in that pool pretty much every day of the summer. In short, I was incredibly fortunate–you could say privileged–to have the family I had and the life my parents were able to provide for me. Here's the whole family when I was about nine years old: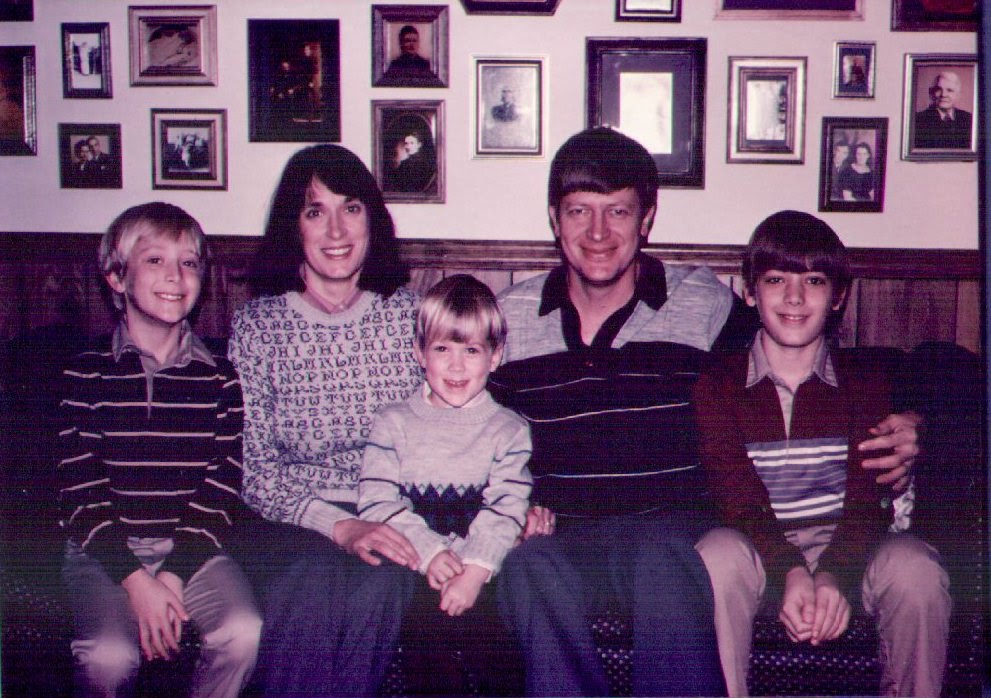 You can find the rest of the book (mostly about travel!) for sale at Amazon in Kindle and Paperback format.