My wife is awesome! Also, people make money on travelers
We've had a lot of fun the past couple of days. Yesterday, we visited the other big palace in Seoul, Changdeokgung, a UNESCO World Heritage Site. We thought it was actually the cooler of the two. This past day, we walked around a traditional neighborhood and then went to a famous shrine, finishing the day at a cool market.
I actually started this blog post yesterday, so I'm going to follow it up with a second quick post with pictures from the past day, but first onto the subject line.
My wife is awesome. This is true in many countless ways, but the thing that I wanted to share was how well she planned this trip for our kids.
Pictured below is HT working on his workbook (at a café at the palace) that she made with activities and reflections for each day. CR has a similar one. Both are designed to help make sure they learn more about the world and Korea during this trip. (Coincidentally, HT has a "Country Research Project" that his class is doing in the month of April. Pretty sure he's the only one doing field research.)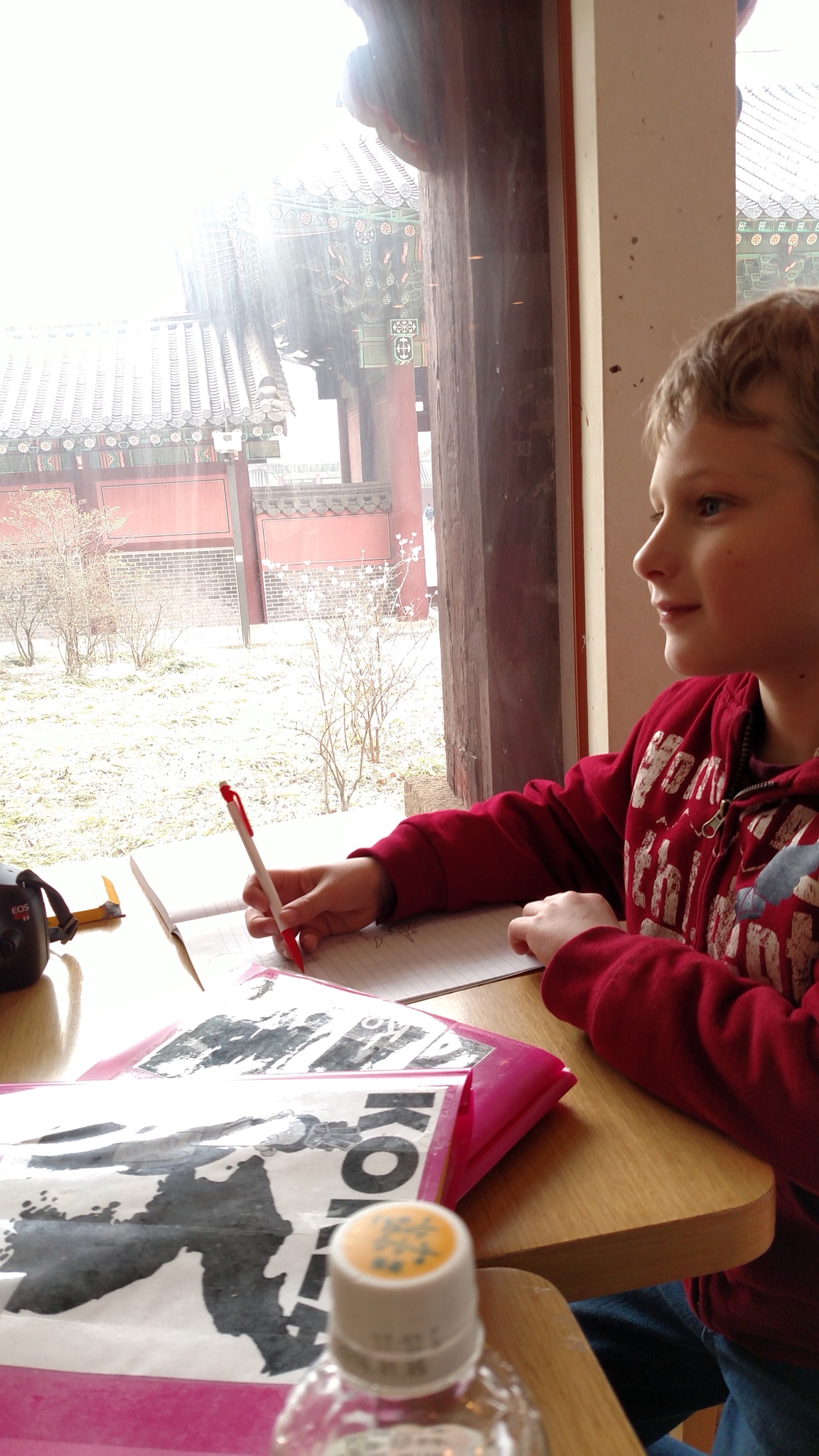 As for the second topic, Karen and I have consistently found a 100% "no Spanish" tax while traveling in Latin America (ie, taking a little time to find a service speaking only Spanish gets you the same thing for half the price.) we were surprised to find a similar thing here, but as a tax for people relying on the Internet.
Our plan is to rent a car for the final 8 days of our trip, but we were a little nervous about the $1,000 quotes we were consistently getting on the Internet before we left. Instead of taking that deal, I just took a bus to a local rental car office and made a reservation. Total cost: $450. That was definitely worth the extra hour it took to go do it in person!